Vaccines for Puppies
At Hamilton Road Animal Hospital, our veterinary team aims to provide your dog with the best of care throughout its life. Our goal is to make sure your puppy lives a happy and healthy life, and that includes regular vaccinations to help keep it healthy. Our veterinarians recommend that all puppies have a series of vaccines beginning at 6 to 8 weeks of age, to keep them safe from dangerous and deadly diseases.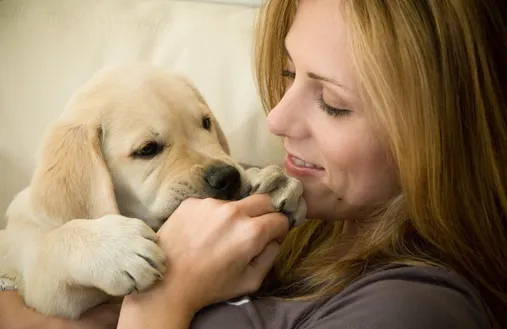 Our Columbus Veterinarians Explain the Importance of Vaccines
A vaccine is a medicine injected into your puppy's body that contains antigens. These antigens are similar to the organisms that create disease, but they are modified and don't actually give your dog the bad effects an actual disease would. Our veterinarians use these vaccines to create an immune response in your puppy, which causes its body to create antibodies against the disease. In short, vaccines cause your pup's own body to become stronger and less likely to contract dangerous illnesses.
What Vaccines Should My Puppy Receive?
Our veterinary team recommends that all pets be vaccinated against rabies. In addition, puppies receive a series of combination shots containing distemper, leptospirosis, hepatitis, parainfluenza and parvovirus vaccines, all in one injection. We find that the combination vaccines are just as effective as individual shots, and much easier on the pets.
Other Recommended Vaccines
All healthy puppies receive what are known as core vaccines, vaccines that every dog needs to have. Some dogs need other shots, called non-core vaccines, depending on their life style and where they live. If you live in or near a wooded area, our veterinarians may recommend giving your puppy a series of vaccines to protect Lyme disease between 12 and 16 weeks of age. Our doctors will also discuss other non-core vaccines, such as bordetella for dogs that spend a lot of time in the company of other dogs, in consultation with you on your pet's wellness visit.
When Should My Puppy Come in for Vaccines?
We will set your puppy up with a regular wellness checkup schedule, including administering vaccinations at 3 to 4 week intervals. In most cases, the schedule is:
Between 6 and 8 weeks of age, we will start your puppy on its initial vaccines
Revaccinate at 3 to 4 week intervals until your puppy is 16 to 18 weeks of age
We will vaccinate against rabies with the last set of puppy shots
This schedule may change, depending on your pet's breed, size and health, but for most puppies that is the schedule that we would recommend.
Make Your Appointment for Puppy Vaccines with our Veterinarians in Columbus, OH
The most important part of being a puppy owner is to make sure your dog stays healthy throughout its entire life. Give your pup a great start by scheduling regular wellness exams that include needed vaccinations. We serve the areas around Columbus, Whitehall, Bexley, Reynoldsburg, Gahanna, Pickerington, and Groveport. Call our office today for an appointment at (614) 239-0027.