Meet the Team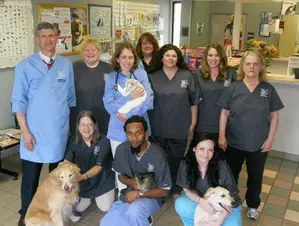 At Hamilton Road Animal Hospital, we treat your pets as if they were our own. Whether you are a new client of ours, or you have been a part of our community for years, we want you to feel comfortable entrusting your pets to our care. To that end, we wish to share helpful information about our team of veterinarians and veterinarian technicians and our veterinary practice's approach to animal wellness care. Read on to find out more about who we are.
About our Veterinarian at Hamilton Road Animal Hospital
For our veterinarians, Columbus Ohio is the perfect base to serve the communities of Columbus, Whitehall, Bexley, Gahanna, Pickerington, and Reynoldsburg. Whether you found us by looking for "vets near you" or have been referred by a friend, we welcome you to the Hamilton Road Animal Hospital community.
With over 34 years of experience, our head veterinarian, Dr. Michael Turley, got his start caring for farm animals and domestic pets, the practice today cares for cats, dogs, and other small animals.
We are lucky to be joined by associate veterinarian Dr. Laurie B. Kennedy, a proud cat parent.
Our veterinary staff on premises include office manager Erica Glass, who has been with us for nearly two decades, our veterinary technician Kim Roberts, and our head receptionist Heather Walden.
Our Columbus Veterinarians
Dr. Michael Turley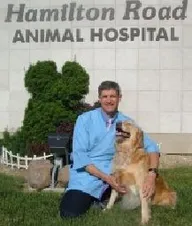 Dr. Michael E. Turley attended The Ohio State University and graduated from the College of Veterinary Medicine in 1978. Upon graduation, Dr. Turley worked in Shelby, Ohio in a mixed animal practice, farm calls in the morning and pets in the afternoon. Dr. Turley returned to Columbus in 1980, and became owner of the Hamilton Road Animal Hospital. Dr. Turley is a member and past president of the Columbus Academy Veterinary Medicine, and a member of the American Veterinary Medical Association and Ohio Veterinary Medical Association



Staff Members
We are also fortunate to have several helpful staff members, who may greet you in our office, work with your pets in our treatment area, or answer the phone to help you schedule an appointment. These additional staff members include Doraine Fisher, Terri Burton, Stephanie Saffle, Brittany Corder, Teddi Sharp, and Stephanie Larson.
Erica Glass has been at Hamilton Road Animal Hospital for almost 19 years. She started as a receptionist then took over as Office Manager. She married to husband, Chip, and has two grown sons. She loves to cook and bake, and spending time at home taking care of her 2 dogs, Ash and Maggie and 2 turtles, Olaf and Kirkegard.

Kim Roberts graduated from Columbus State Community College in 1997 with an Associate of Applied Science Degree in Veterinary Technology. She is a member of the Ohio Association of Veterinary Technicians. Kim has been working at the Hamilton Road Animal Hospital since then. In her spare time, she enjoys traveling and spending time with her four cats.

Doraine Fisher has been with Hamilton Road Animal Hospital since March, 1999. She graduated from Eastmoor High School in 1996 and Northwest Career Center from the Animal Management and Grooming Department. Doraine enjoys spending time with her husband and two boys. She also enjoys time with her four dogs and three cats. In her spare time, she pet sits, shops and tries to keep up with household duties.