If you see your dog or cat scratching repeatedly, don't ignore it. An animal's skin can tell a lot about what's going on with the animal's overall health. Combine that issue with odd, bad smells, and you have a telltale sign something is wrong and needs attention. When that happens, contact one of our veterinarians near you at Hamilton Road Animal Hospital in Columbus, OH.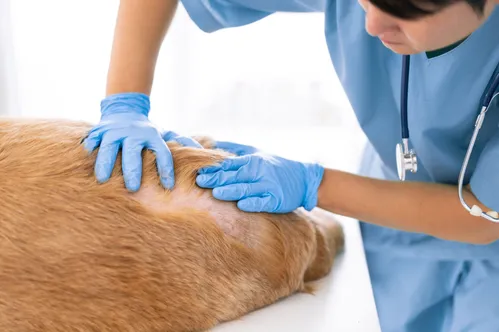 Symptoms and Indicators
Common skin issue symptoms in animals are frequently signaled by repeated scratching, licking, and chewing. Occasional scratching is normal for your pet. However, if your dog or cat continues to keep focusing on the same location repeatedly every few minutes or more frequently, it's time to see a veterinarian.
Animal skin problems are also symptoms of a lot of other health issues. They can be triggered by parasites, rashes, dietary problems, and infections. All the above are definite reasons for veterinary attention, as these skin problems typically just get worse with time.
Get Help from Our Veterinarian
One of our veterinarians in Columbus, OH, can tell a lot about a dog or cat's skin with a thorough examination of the skin. Ideally, the animal's skin under the fur should be healthy, supple, and protected by the fur. When the skin is reddish, swollen, scabby, or there are signs of blisters and infection, immediate medical attention is needed. Without it, the animal will likely continue to irritate the skin by scratching for relief, and that almost always guarantees a secondary infection. To confirm what the cause is, our animal hospital team may do a series of skin tests and develop an appropriate treatment plan.
Contact Our Animal Hospital in Columbus, OH, Today
Our team at Hamilton Road Animal Hospital will try get to the root of your pet's skin problems quickly. Once we diagnose your pet's condition, we can prescribe the right treatment approach to alleviate the itching or pain symptoms and deal with the cause. Where an allergy is involved, elimination of environmental causes can have a big impact on the health of your pet. Where an infection is involved, neutralizing the bacterial cause will allow your pet's body to start healing quickly.
Call us today at 614-239-0027 to schedule an appointment. Our dermatology experience can help you solve irritating pet skin problems quickly.